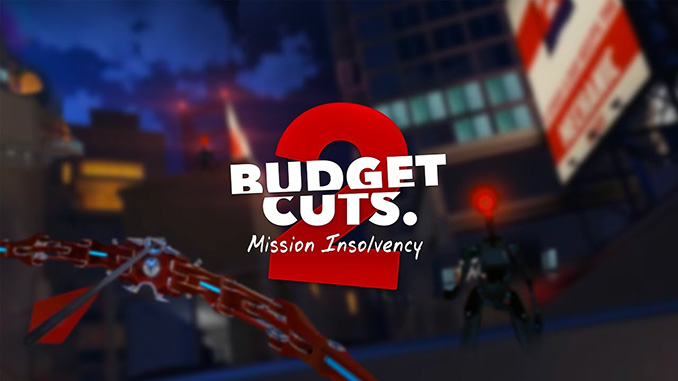 Budget Cuts 2: Mission Insolvency – VR PC Game – Free Full Download
GENRE: Action, Adventure,
DEVELOPER: Neat Corporation, Fast Travel Games
PUBLISHER: Neat Corporation
FRANCHISE: Budget Cuts
RELEASE DATE: 13 Dec, 2019
About Budget Cuts 2: Mission Insolvency VR game:
You made it out of the TransCorp office alive, only to discover that more than menial office tasks have been taken over by robots. Is humanity being optimized out of existence altogether? Something needs to be done.
Built from the ground-up for Virtual Reality, Budget Cuts is an action-adventure stealth game where you take down the evil robots at TransCorp.
Prepare to zip across high-speed trains, stealth your way through the TransCorp skyscrapers, sneak across warehouses, rooftop buildings, fabrication plants, server halls, and more!
The newly added Mutators Patch provides a range of locomotion options (including the smooth kind!), along with enemy modifiers, slow motion, and new weapon choices. Read the full list of modifiers and patch notes here!
In Budget Cuts 2 you have tons of shiny tools to help you take down TransCorp. Use the Magnifying Glass to track enemy positions and sneak past them, or take enemies down from a distance with the Bow and Arrow. Throw knives at the Supervisors to deplete their "oil", or knock enemies out with blunt objects.
How you approach each combat situation is entirely up to you, your imagination, and the number of knives you can hold in your hands (well, that, and your inventory slots).
Budget Cuts 2: Mission Insolvency VR Screen Shots
System Requirements
Minimum:
OS: Windows 7 SP1 or newer
Processor: Intel i5-4590 / AMD Ryzen 1500X
Memory: 6 GB RAM
Graphics: GeForce GTX 970/1060 or Radeon RX 480
Storage: 6 GB available space
Installation:
Burn or mount the .iso
Run setup.exe and install
Copy crack from VREX dir to installdir
Play
If you like this game, support the developers and BUY IT!
Note : You need a VR headset in order to play this game. Follow the
above link to find compatible models.
This release was successfully tested with an Oculus Rift VR.
Budget Cuts 2: Mission Insolvency VR Download
Budget_Cuts 2: Mission Insolvency (VR) = Size: 3.63 GB
Please note that you need a download-client before you start downloading.
You can visit our FAQs page for more info…
If you like the site please don't forget to share…