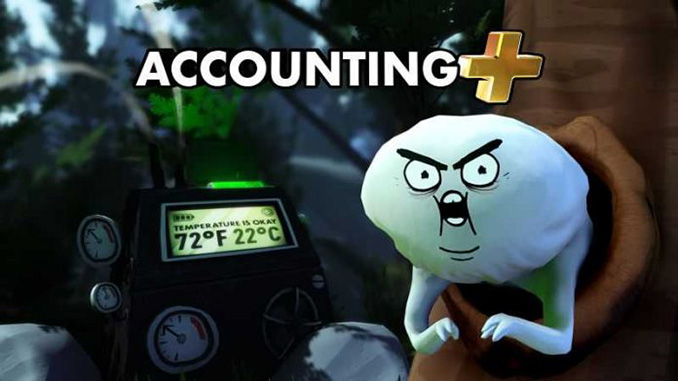 Accounting+ – VR PC Game – Free Full Download
GENRE: Action, Adventure, Casual, Simulation
DEVELOPER: Crows Crows Crows, Squanch Games
PUBLISHER: Crows Crows Crows
RELEASE DATE: 18 Oct, 2018
About Accounting+ game:
What began as a small game jam between William Pugh (The Stanley Parable), Dominik Johann (Minit) and Justin Roiland (Rick and Morty) is now, two years later, an aberration of warped technology, weird worlds and strange, disturbing creatures. Since its debut in 2016 (10/10 on Steam), Accounting has tripled in size, mutating into an intricate labyrinth of forbidden virtual realities. There are countless more secrets to discover if you have the stomach to brave the dangers of new characters, brought to life by an ever expanding cast of comedic legends (Rich Fulcher, Reggie Watts and Justin Roiland, to name a few).
How long have these goggles been pressing into my flesh?
Accounting is a noble profession. During your tenure with Smith & Smitherson, you will bare witness to the afterbirth of this new facet of human experience. However, it is not without it's dangers. Here are some of the dangers you need to be aware of before entering Accounting+.
DANGERS
– If you die in VR, you die in real life.
– Do not play after midnight.
– Some Characters may be unfriendly and not actively encourage you during gameplay.
– Achievements linked to unforgivable acts of human corruption.
– A soundtrack that is way better than a VR game soundtrack should have any right to be.
– Subtitles and Translations for 9 languages… Oh wow that's internationally dangerous.
– The vacuum of space.
– Sitting and Standing Mode are BOTH available (and dangerous)!!
– And, unfortunately: The Cops.
MATURE CONTENT DESCRIPTION
The developers describe the content like this:
Let's get one thing straight: Accountancy is a mature profession and is not for children. Accounting+ includes: Sexual Themes, Violence, Crude Humor, Strong Language, Blood, and Drug References!!
Accounting+ Screen Shots
System Requirements
Minimum:
OS: Windows 7 SP1, Windows 8.1 or later, Windows 10
Processor: CPU: Intel i5-4590 equivalent or better
Memory: 4 GB RAM
Graphics: Nvidia GeForce GTX 970, AMD Radeon R9 290 equivalent or better
Storage: 1 GB available space
Sound Card: Yes
Additional Notes: VIRTUAL REALITY ONLY!
Note : You need a VR headset in order to play this game. Follow the
above link to find compatible models.
This release was successfully tested with an Oculus Rift VR.
Accounting+ Download
Accounting+ (VR) = Size: 1.02 GB
Please note that you need a download-client before you start downloading.
You can visit our FAQs page for more info…
If you like the site please don't forget to share…